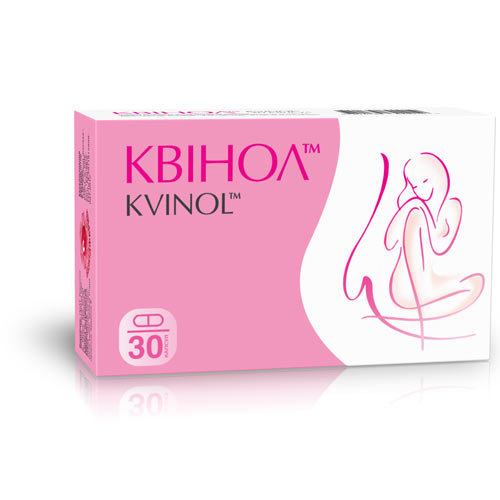 New Mail or courier in Kiev — free when ordering goods from 1000 UAH
If the amount is less 500 UAH recommend to purchase pharmacy.
Description
KVINOL - contains of highly pure indole-3-carbinol, that normalize metabolism of estrogen in a woman's body and prevents development of hormone-dependent and hormone-independent diseases. Indole-3-carbinol - biologically active substance that derived from plants cruciferae family and has antiestrogenic and antiproliferative activity.
KVINOL contributes to normalization of metabolismof female sex hormone estradiol, and inhibits the synthesis of procarcinogenic 16α-hydroxyestrone, that characterized by distinctive carcinogenic properties. It helps to reduce the number of estrogen receptors in tissues of target organs. Positively effects on physiological processes of functional disorders caused by hyperestrogenemia.
KVINOL is effective in hyperproliferative processes of epithelial cells of the reproductive system in women. Has positive effect on hyperplastic processes in the female reproductive system caused by disturbances in regulation of cell division. Helps to neutralize action of growth factors that stimulate hyperproliferative processes in the mammary glands. Prevents synthesis of the oncoprotein E7 in epithelial cells infected by HPV, inhibiting the process of malignant transformation.
KVINOL normalizes metabolism of estrogen in the body and prevents development of estrogen-dependent pathological processes; positively affect on physiological processes in hyperestrogenemia. Contributes reduction of estrogen-dependent hyperproliferative processes of epithelial origin, including papillomatosis in the female reproductive system, mastitis, endometriosis, uterine fibroids, ovarian cysts, dysplasia, perimenopausal metabolic syndrome.
Composition and drug formulation.
30 capsules. 1 capsule contains 200 mg of indole-3-carbinol. Auxiliary substances: lactose, starch, orisil, magnesium stearate.
Indications for use.
KVINOL is used for prevention of diseases of the female reproductive system that are caused by pathological processes of cell proliferation. KVINOL can be used to prevent hormonal disorders and hormone-related disorders:
mastopathy;
cervical dysplasia;
endometriosis, adenomyosis;
premenstrual syndrome;
hysteromyoma (fibromyoma);
papillomatosis, human papillomavirus infection (HPV, genital warts);
ovarian cyst.
Posology and method of adminitration.
Adults take 1 capsule 2 times a day before or during meals. The preparation is applied at 6 months for the treatment of hyperproliferative processes in the reproductive organs of women and papillomatosis; violation of metabolic processes in the mammary glands - 3 months. Before use it is recommended to consult with a doctor.
Contraindication.
Individual intolerance of components, pregnancy and lactation. It is not recommended for people who adopt products that reduce the acidity of gastric juice.
Adverse reactions.
It is not revealed.
Storage conditions.
Store in original container in a dry, protected from light and inaccessible to children place at temperature from 4°C to 25°C. Shelf life - 2 years. The expiration date is indicated on the packaging.
Registration certificate №05.03.02-04/105003 from 26.10.2012
It is not a drug.
KVINOL made from high quality vegetable raw materials produced by EUSA COLORS company (France).