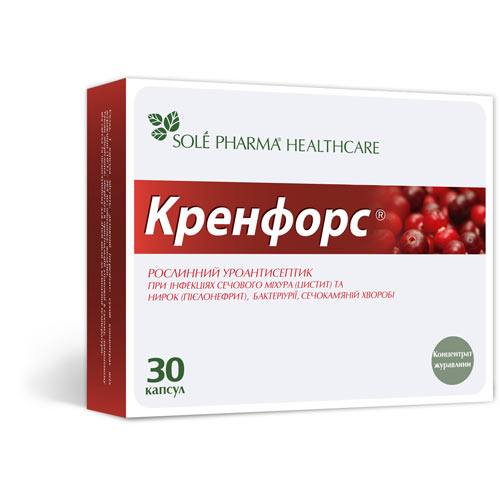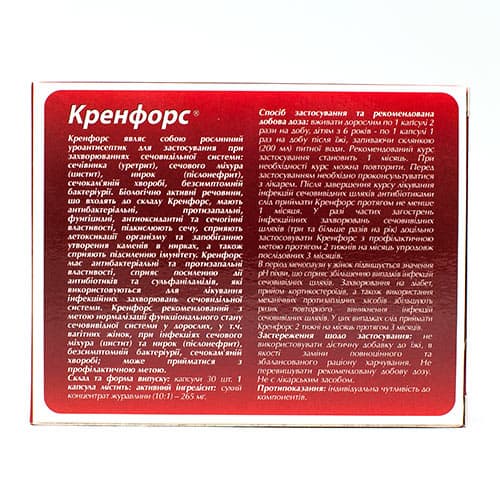 New Mail or courier in Kiev — free when ordering goods from 1000 UAH
If the amount is less 500 UAH recommend to purchase pharmacy.
Description
CRANFORCE - natural antiseptic using in diseases of the urinary system: urethra (urethritis), bladder (cystitis), kidneys (pyelonephritis), kidney stones, asymptomatic bacteriuria. Biologically active substances, which are included in CRANFORCE have antibacterial, anti-inflammatory, antifungal, antioxidant and diuretic properties, acidified urine, help to detoxify the body and prevent formation of kidney stones and enhances immunity. CRANFORCE has antibacterial and anti-inflammatory properties, enhances the action of antibacterial drugs used for the treatment of infectious diseases of the urinary system. CRANFORCE recommended to normalize functions of the urinary system for adults, including pregnant women, with infections of the bladder (cystitis) and kidneys (pyelonephritis), asymptomatic bacteriuria, kidney stones; may be taken for prophylaxis.
Composition and drug formulation.
CRANFORCE 30 capsules. 1 capsule contains: active ingredient - dry cranberry concentrate (10:1) - 265 mg.
Posology and method of adminitration.
Adults take 1 capsule 2 times a day after meals with a glass (200 ml) of drinking water.
The recommended rate of application is 1 month. If necessary, repeat the course. Before it use you must consult with a doctor. After completing treatment course of urinary tract infections with antibiotics should be taken CRANFORCE at least 1 month. In case of frequent exacerbations infectious diseases of the urinary tract (three or more times a year) it is advisable to use CRANFORCE about 2 weeks per month for 3 months.
During menopause increases pH of the vagina, which contributes increased incidence of urinary tract infections. Diabetes, intake of corticosteroids, and using of mechanical contraceptives increases the risk of recurrence of urinary tract infections. In these cases, you should take CRANFORCE 2 weeks per month for 3 months.
Contraindication.
Individual intolerance to the components.
Application features.
Do not use dietary supplements to food, as a substitute for a full and balanced diet. Do not exceed the recommended daily dose.
Storage conditions.
Store in original container in a dry, protected from light and inaccessible to children place at room temperature. Shelf life - 24 months. Date of production indicated on the packaging.
Registration certificate №05.03.02-03/3759 from 23.01.2014
It is not a drug.
CRANFORCE is made of high quality herbal ingredients production by Solepharm LLC, Latvia.