Sale 5+1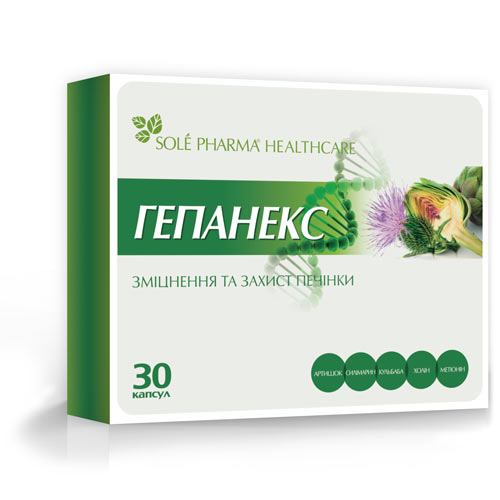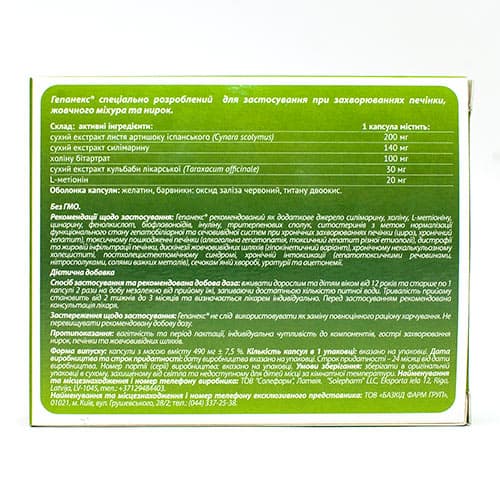 New Mail or courier in Kiev — free when ordering goods from 1000 UAH
If the amount is less 500 UAH recommend to purchase pharmacy.
Description
Composition ans drug formulation.
30 capsules. 1 capsule contains: active ingredients: dry leaf extract of artichoke thistle (Cynara scolymus) - 200 mg, dry extract of silymarin - 140 mg, choline bitartrate - 100 mg, dry extract of dandelion (Taraxacum officinale) - 30 mg, L-methionine - 20 mg; capsule shell: gelatin; dyes: iron oxide red, titanium dioxide.
Non-GMO.
HEPANEX is specially produced for using in diseases of the liver, gall bladder and kidneys.
Leaves dry extract of artichoke thistle has hepatoprotective, choleretic, diuretic and antitoxic action, due to biologically active substances: cynarine, phenol acids, bioflavonoids, inulin. It normalizes metabolism, protects liver cells and kidney from toxins and promotes their excretion from the body. Diuretic properties of the artichoke extract help to reduce the level of nitrogenous compounds in the blood. The excretion of sodium ions is not accompanied by the withdrawal of potassium ions, which helps to reduce swelling and does not affect on the functioning of the heart. Helps to reduce cholesterol level in the blood.
Dry extract of silymarin is a complex of biologically active substances of Saint-Mary-thistle (Silybum marianum), which are characterized by antioxidant, membrane-stabilizing, antihepatotoxic, antifibrosis and anti-inflammatory properties, also, enhance the regeneration processes in the liver cells.
Choline bitartrate is required for the synthesis of phospholipids and plays an important role in the transport of fats into the cells and out of cells. Choline promotes the emulsification of fats, strengthens cell membranes, prevents damage and promotes their recovery. Also promotes absorption of fat-soluble vitamins A, D, E and K.
Dry extract of dandelion (Taraxacum officinale; synonym: Taraxacum mongolicum) has choleretic, antispasmodic, anti-inflammatory, diuretic and sedative effect, due to biologically active substances - triterpene compounds, sitosterol, sigmasterol, inulin, choline, nicotinamide, glycosides.
L-methionine is an essential amino acid, that is required for the synthesis of proteins, nucleic acids, hormones, creatine; has hepatoprotective, hypolipidemic, antioxidant and regenerative effect. Reduces cholesterol level and increases the concentration of phospholipids in the blood. L-methionine acidify the urine, therefore, contributes to the prevention of urinary tract infections and formation of kidney stones.
Indications for use.
The drug is recommended as an additional source of silymarin, choline, L-methionine, cynarin, phenol acids, bioflavonoids, inulin, triterpene compounds, sitosterol with the purpose normalization the functional state of the hepatobiliary and urinary systems for:
chronic liver diseases (cirrhosis, chronic hepatitis);
toxic liver damage (alcoholic hepatopathy, chronic hepatitis of various etiologies);
dystrophy and fatty infiltration of the liver;
biliary dyskinesia (hypokinetic variant);
chronic acalculous cholecystitis;
post-cholecystectomy syndrome;
chronic intoxication (hepatotoxic substances, nitro compounds, salts of heavy metals);
kidney stones;
uraturia;
acetonemia.
Contraindication.
Pregnancy and breast-feeding, individual sensitivity to components, acute diseases of the kidneys, liver and biliary tract.
Posology and method of adminitration.
Taking pills for adults and children 12 years and older: 1 capsule 2 times a day, regardless of meals and squeezed enough drinking water.
Storage conditions.
Store in original container in a dry, protected from light and inaccessible to children place at room temperature.
Shelf life - 24 months from date of production.
Special instructions.
Do not exceed recommended daily dose.
Name of manufacturer. SOLEPHARM LLC, Eksporta iela 12, Riga, Latvia, LV-1045. Phone: +37129484403.
Exclusive representative. BAZKID PHARM GROUP LLC; Phone: +380 (44) 337-25-38.
It is not a drug. Before use it is recommended consult with a doctor.
Comments (0)