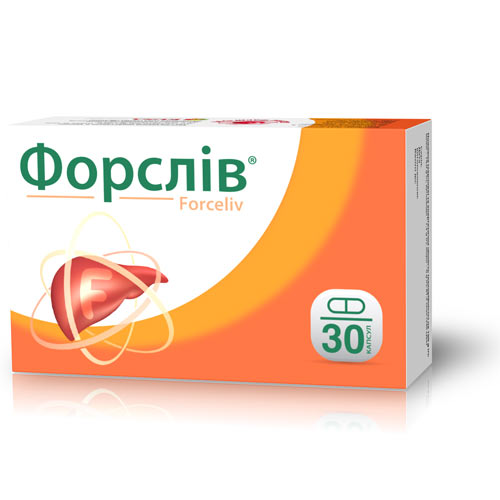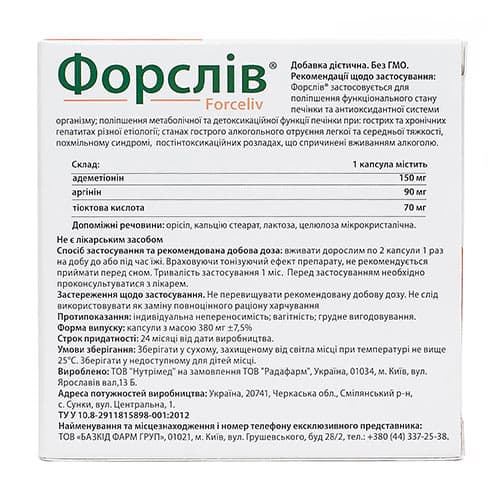 New Mail or courier in Kiev — free when ordering goods from 1000 UAH
If the amount is less 500 UAH recommend to purchase pharmacy.
Description
FORCELIV - combined hepatoprotector based on important amino acids, has regenerating and antioxidant action.
Arginine has a hepatoprotective action due to membrane-stabilizing, anti-hypoxic and antioxidant properties, positively influenced on the energy supply processes in hepatocytes. For alcohol intoxication arginine stimulates utilization of alcohol in the monooxygenase system of the liver, prevents inhibition of a main enzyme of ethanol utilization - alcohol dehydrogenase. Accelerates inactivation and excretion of toxic ethanol metabolites as a result of increased production and oxidation of succinic acid.
Ademetionine is a substance that is found almost in all tissues and physiological fluids. Due to its chemical structure, a drug is the basis for many biochemical thiol compounds (cysteine, taurine, coenzyme A, etc.) in the process of transsulfuration and stimulates regeneration of cells. Ademetionine has a choleretic action by stimulating phosphatidylcholine synthesis in membranes of hepatocytes and increase their flexibility and polarization. As a result, functions of bile acids transport systems are improved. Intake of ademetionine promotes detoxification of bile acids by their sulfonation, which helps to their elimination by kidneys, facilitates passage through the membrane of hepatocytes and bile excretion. For prolonged use there is glutamine increase in the liver, cysteine and taurine in plasma, which leads to normalization of metabolic processes in the liver and improves its functions.
Thioctic (α-lipoic) acid - an endogenous antioxidant. As a coenzyme of mitochondrial multienzyme complexes it isinvolved in oxidative decarboxylation of pyruvic acid and α-keto acid, plays an important role in energy balance of the body. The nature of the biochemical action of lipoic acid is similar to vitamins of group B. Has hepatoprotective, hypolipidemic, hypocholesterolemic, hypoglycemic effect. Participates in regulation of lipid and carbohydrate metabolism, has a lipotropic effect, affects on metabolism of cholesterol, improves liver function, has an antioxidant effect in cases of poisoning by salts of heavy metals and other intoxications.
Composition and drug formulation.
30 capsules. 1 capsule contains:
ademetionine - 150 mg;
arginine - 90 mg;
thioctic acid - 70 mg.
Auxiliary compounds: orisil, calcium stearate, lactose, microcrystalline cellulose.
Indications for use.
FORCELIV is used to improve liver function and antioxidant system of the body, to improve the metabolic and detoxification functions of the liver in:
acute and chronic hepatitis of various etiology;
conditions of acute alcohol intoxication of mild and moderate severity;
hangover;
post-toxic disorders due to using of alcohol.
Posology and method of adminitration.
Adults take 2 capsules 1 time a day before or during having meals. Due to the tonic effect of the drug, it is not recommended to take before bedtime. Duration of use is 1 month. Before applying you must consult with a doctor.
Contraindication.
Individual intolerance, pregnancy, breast feeding, child age.
Side effects.
It is not revealed.
Store in a dry, dark place at temperatures not above 25°C. Keep out of children. Shelf life - 2 years.
Registration certificate №05.03.02-04/84335 from 17.09.2013
Name of manufacturer: Nutrimed LLC. Ukraine, 03150, Kiev, Predslavinskaya str., 43/2. Phone: +380 (44) 454-01-00.
The address of production: Ukraine, 20741, Cherkasy region, Smila district, vil. Sunky, Lenina str., 1.
It is not a drug.
FORCELIV made of high quality natural ingredients manufactured by EUSA COLORS (France).