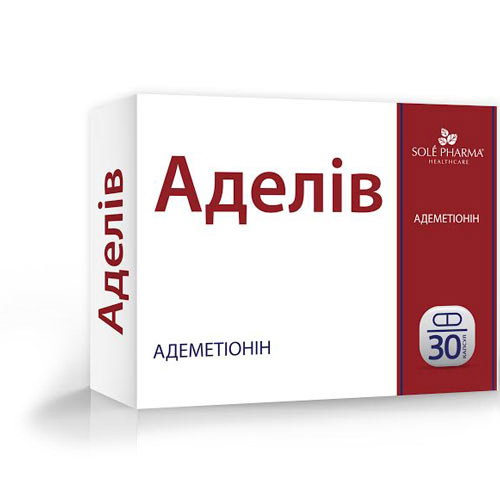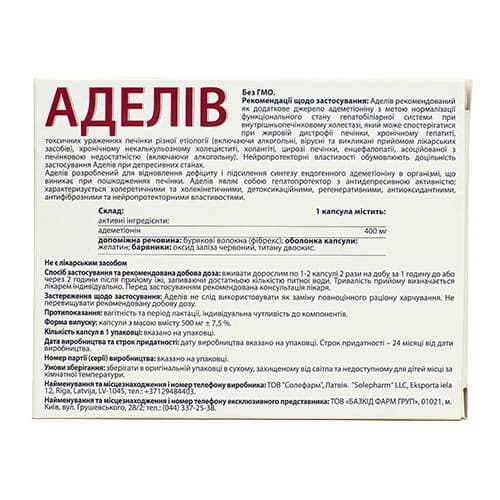 New Mail or courier in Kiev — free when ordering goods from 1000 UAH
If the amount is less 500 UAH recommend to purchase pharmacy.
Description
Composition and drug formulation.
30 capsules. 1 capsule contains: active ingredients: ademetionine - 400 mg; auxiliary substance: beet fiber (fibrex); capsule shell: gelatin; coloring agents: iron oxide red, titanium dioxide.
Non-GMO.
Ademetionine (S-adenosyl-L-methionine) is a natural amino acid that is present almost in all tissues of the body. Ademetionine plays a key role in metabolic processes of the body and involved in important biochemical processes: transfer of methyl group for synthesis phospholipids of cell membranes, neurotransmitters, nucleic acids, proteins, hormones, etc.; transsulfuration - involved in the synthesis of cysteine, taurine, glutathione (an important antioxidant), coenzyme A; transamination - involved in the synthesis of polyamines, which stimulate cellular regeneration, proliferation of hepatocytes. Ademetionine has a hepatoprotective and an antidepressant action, its level influences on antioxidant, detoxification, regenerating functions of the liver. ADELIV is produced for restore the deficit and increased synthesis of endogenous ademetionine in the body, which occurs when the liver is damaged. It is a hepatoprotector with antidepressant activity; characterized by choleretic, detoxifying, regenerating, antioxidant, antifibrosis and neuroprotective properties.
Indications for use.
ADELIV is recommended as an additional source of ademetionine to normalize functional condition of the hepatobiliary system in intrahepatic cholestasis, which begins from:
fatty degeneration of liver;
chronic hepatitis;
toxic liver disease of various etiologies (including alcoholic, viral and caused by taking medicines);
chronic acalculous cholecystitis;
cholangitis;
cirrhosis of the liver;
encephalopathy associated with liver failure (including alcoholic).
Neuroprotective properties determine the feasibility using of ADELIV in depressive situations.
Contraindication.
Pregnancy and breast-feeding, individual sensitivity to components.
Posology and method of adminitration.
Adults take 1-2 capsules 2 times a day 1 hour before or 2 hours after eating and squeezed enough of drinking water. The length of treatment is determined by doctor individually.
Storage conditions.
Store in original container in a dry, protected from light and inaccessible for children place at room temperature.
Shelf life - 24 months from date of production.
Special instructions.
Do not exceed recommended daily dose.
Name of manufacturer. SOLEPHARM LLC; Eksporta iela 12, Riga, Latvia, LV-1045. Phone: +37129484403.
Exclusive representative. BAZKID PHARM GROUP LLC; Phone: +380 (44) 337-25-38.
It is not a drug. Before use it is recommended to consult with a doctor.