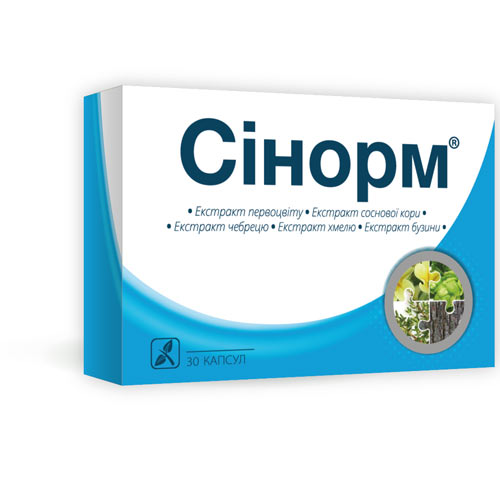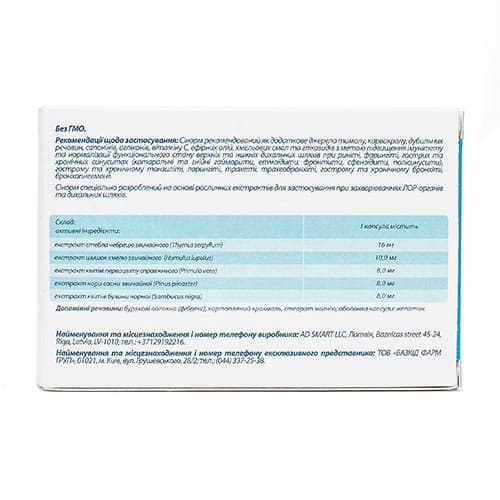 New Mail or courier in Kiev — free when ordering goods from 1000 UAH
If the amount is less 500 UAH recommend to purchase pharmacy.
Description
Composition and drug formulation.
30 capsules. 1 capsule contains: active ingredients: extract of thyme stem (Thymus serpyllum) - 16 mg, extract of hop cones (Humulus lupulus) - 10 mg, extract of primrose flowers (Primula veris) - 8 mg, extract of Scots pine bark (Pinus pinaster) - 8 mg, extract of black elderberry flowers (Sambucus nigra) - 8 mg; auxiliary compounds: beet fiber (fibrex), potato starch, magnesium stearate; capsule shell: gelatin.
Non-GMO.
Sinorm - specially formulated with herbal extracts for use in diseases of ENT-organs and respiratory tract.
The extract of the stem of thyme contains thymol, carvacrol, tannins, triterpenoids, which cause antiseptic, expectorant, antipyretic, soothing and decongestant properties.
Extract of hop cones has antiviral, antibacterial, sedative, tonic and general tonic properties (due to the content of essential oils, hop resins, bitter and tanning substances, glycosides, flavonoids).
Extract of primrose flowers contains of saponins, aglycones and vitamin C; has antitussive, expectorant, anti-inflammatory, antiseptic properties. In folk medicine used and diaphoretic properties of this medicinal plant.
Extract of the Scots pine bark contains of essential oils, tannins and resins, which possess expressed bactericidal, anti-inflammatory and immunomodulatory effects, protects blood vessels, restores the collagen layer in blood vessel walls, strengthening them. Have a average anti-hypertensive properties that help to improve blood circulation.
Flower extract of black elderberry contains of glycosides, volatile oils, choline, rutin, carotene, chlorogenic and caffeic acid, tannins etc., which have antibacterial and disinfectant properties, strengthen immune system, especially for colds and acute respiratory diseases.
Indications for use.
Sinorm is recommended as an additional source of thymol, carvacrol, tannins, saponins, aglycones, vitamin C, essential oils, hop resins and glycosides, with the aim of enhancing immunity and normalization of functional state of the upper and lower respiratory tract for:
rhinitis;
pharyngitis;
acute and chronic sinusitis (catarrhal and suppurative sinusitis, ethmoiditis, frontal sinusitis, sphenoiditis, polysinusitis);
acute and chronic tonsillitis;
laryngitis;
tracheitis;
the tracheobronchitis;
acute and chronic bronchitis;
bronchopneumonia.
Contraindication.
Pregnancy and breast-feeding, individual sensitivity to components.
Posology and method of adminitration.
Adults and children from 12 years and older 1 capsule 3 times a day, children aged 6 to 12 years - 1 capsule 2 times a day. Take during meals, with drinking water. The length of treatment is 2-3 weeks.
Storage conditions.
Store in original container in a dry, protected from light and inaccessible for children place at room temperature.
Shelf life - 24 months from date of production.
Special instructions.
Do not exceed recommended daily dose.
Name of manufacturer. AD SMART LLC, Latvia; Baznicas street 45-24, Riga, Latvia, LV-1010. Phone: +37129192216.
Exclusive representative. BAZKID PHARM GROUP LLC; Phone: +380 (44) 337-25-38.
It is not a drug. Before use it is recommended to consult with a doctor.