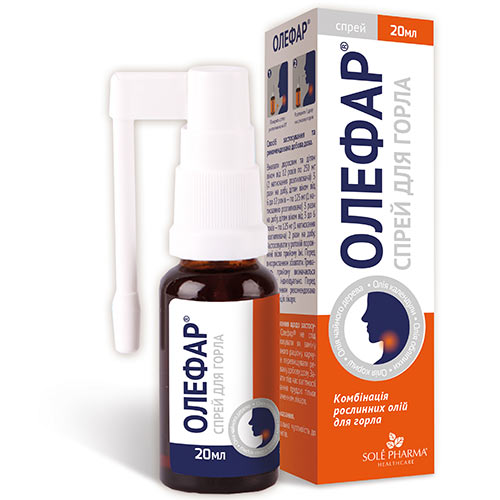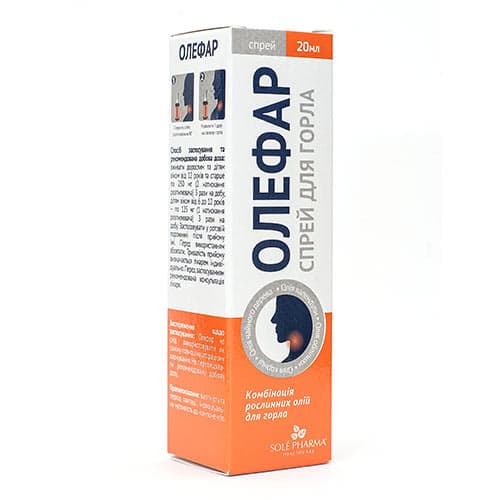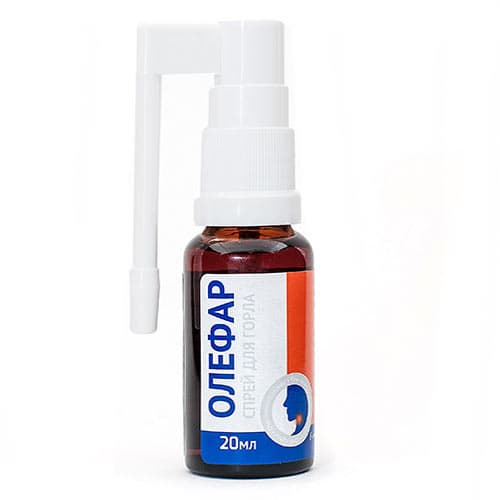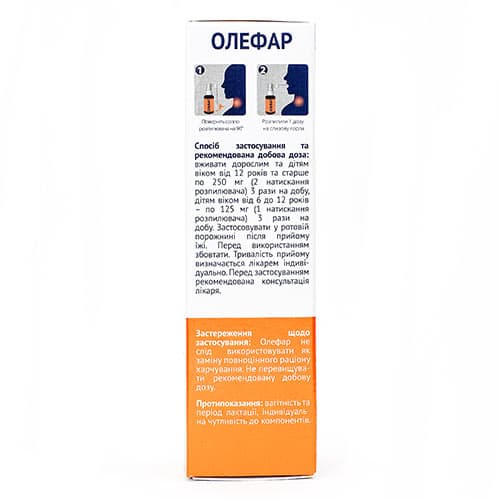 Description
Composition and drug formulation.
Liquid in flacon with a net volume of 20 ml. 1 g contains: active ingredients: seabuckthorn oil - 120 mg, calendula oil - 60 mg, oil of cinnamon - 20 mg, tea tree oil - 20 mg; auxilliary compounds: rapeseed oil, peppermint oil.
Non-GMO.
Olefar contains a combination of natural plant oils in the form of fluid for oral use.
The oil of seabuckthorn (Hippophae rhamnoides) contains a huge number of natural biologically active substances, due to which shows pronounced antibacterial, anti-inflammatory and antiviral activity, activates regeneration processes in mucous membranes, reduces unpleasant sensations in the throat, facilitates swallowing.
Calendula oil (Calendula officinalis) also contains a number of different vitamins, fatty acids, microelements, chlorophyll, thereby providing antibacterial, anti-inflammatory, wound healing, antispasmodic, astringent and sedative effect.
Oil of cinnamon (Cinnamomum verum) has antiseptic, antitoxic, anti-inflammatory, antispasmodic and sedative effect, normalizes blood circulation and metabolism.
Tea tree oil (Melaleuca alternifolia) has marked antiseptic (antibacterial, antiviral, antifungal) and immunostimulating properties. Shows activity against pathogenic microorganisms such as: Staphylococcus aureus, Staphylococcus epidermidis, Staphylococcus pneumoniaе, Propionibacterium acnes, Streptococcus β-haemolyticus, Klebsiella pneumoniae, Citrobacter spp., Shigella sonnei, Proteus mirabilis, Legionella spp., Pseudomonas aeruginosa, Candida albicans etc.
Indications for use.
Olefar is recommended as an additional source of biologically active substances of natural plant oils for normalization of functional condition of the upper respiratory tract for:
pharyngitis;
laryngitis;
acute and chronic tonsillitis;
state after tonsillectomy;
aphthous stomatitis;
tracheitis.
Contraindication.
Individual intolerance, pregnancy, breast feeding.
Posology and method of adminitration.
Take for adults and children from 12 years and older - 250 mg (2 clicks on sprayer 3 times a day, children aged 6 to 12 years - 125 mg (1 clicks on sprayer) 3 times a day. Apply in the mouth after eating. Shake well before use. The length of treatment is determined by doctor individually.
Storage conditions.
Store in original container in a dry, protected from light and inaccessible for children place at room temperature.
Special instructions.
Do not exceed recommended daily dose.
Name of manufacturer. SOLEPHARM LLC; Eksporta iela 12, Riga, Latvia, LV-1045. Phone: +37129484403.
Exclusive representative. BAZKID PHARM GROUP LLC; Phone: +380 (44) 337-25-38.
It is not a drug. Before use it is recommended to consult with a doctor.
Comments (0)