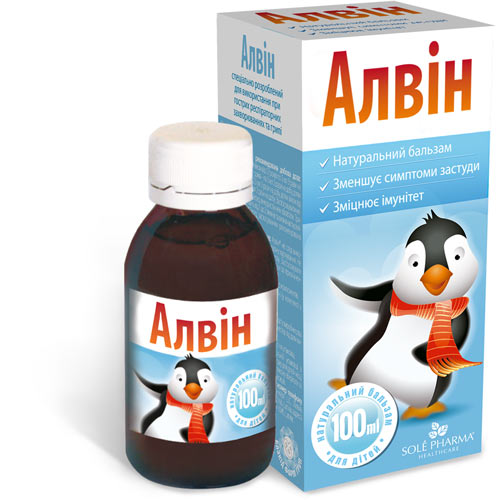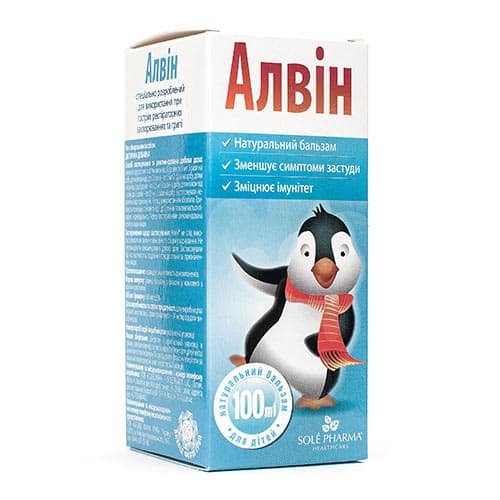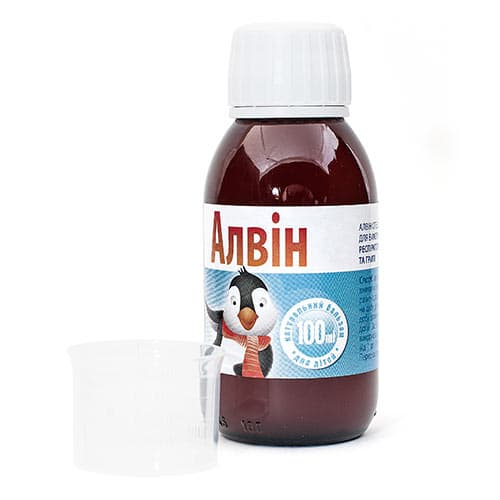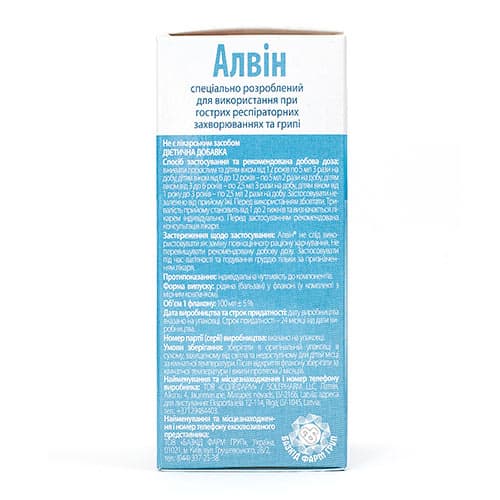 New Mail or courier in Kiev — free when ordering goods from 1000 UAH
If the amount is less 500 UAH recommend to purchase pharmacy.
Description
Composition and drug formulation.
The liquid (lotion) in a bottle (complete with measuring cap) 100 ml. 100 ml syrup contains: active ingredients: inulin - 3,77 g, L-lysine monohydrochloride - 2,44 g, extract of thymus vulgaris (Thymus vulgaris) - 1,83 g, extract of linden flowers (Tilia europaea) - 1,22 g, vitamin C - 1,22 g, propolis extract - 0,31 g, extract of pine buds (Pinus sylvestris) - 0,31 g; auxiliary substances: berry juice, sugar, honey, purified water.
Non-GMO.
Alvin is specially produced for using for acute respiratory diseases and flu.
Inulin is a natural polysaccharide, improves digestibility of cuprum and zinc, which play an important role in strengthening of the immune system. Inulin has prebiotic properties, stimulates contractile ability of the intestinal wall, which accelerates body purification of toxins, promotes absorption of vitamins and minerals.
L-lysine - an essential amino acid that is necessary for growth, tissue repair, synthesis of antibodies, hormones, enzymes etc. Has an antiviral effect. The lack of lysine causes of immunodeficiency states.
Thyme extract contains thymol, carvacrol, tannins, triterpenoids, which cause antiseptic, expectorant, antipyretic, sedative properties, and also provide a local anti-edema effect.
The extract of linden flowers has antipyretic, diaphoretic, antiseptic, secretolytic, sedative, hypotensive and mild astringent action due to its composition of essential oils, bitter and tannins, flavonoids, coumarin, saponins, etc.
Vitamin C (ascorbic acid) - natural antioxidant, which helps to neutralize toxic free radicals. Regulates immunological reactions, promotes phagocytosis, increases resistance to infections, inhibits release and accelerates degradation of histamine, inhibits formation of prostaglandins and other mediators of inflammation and allergic reactions. Vitamin C increases blood clotting, strengthens the walls of blood vessels, stimulates tissue regeneration and synthesis hormones of the adrenal cortex, activates various body enzymes that participate in red/ox processes, increases effects of other vitamins, reduces muscle fatigue.
The extract of propolis has antiviral, antibacterial, fungicidal, anti-inflammatory, astringent and tonic action of capillaries.
The extract of pine buds contains essential oils, tannins and resins, which have antiviral, antibacterial, disinfectant, anti-inflammatory, bronchodilatory effect. Helps to alleviate cough and enhancement of sputum by stimulating the function of ciliated epithelium.
Indications for use.
Alvin is recommended as an additional source of inulin, lysine, vitamin C, essential oils, thymol, carvacrol, tannins, triterpenoids, flavonoids and resins, with the aim of improving immunity for:
flu;
acute respiratory diseases of the upper respiratory tract (rhinitis, nasopharyngitis, pharyngitis, laryngitis, laryngotracheitis, tracheitis);
acute respiratory diseases of the lower respiratory tract (tracheobronchitis, bronchitis, pneumonia).
Contraindication.
Pregnancy and breast-feeding, individual sensitivity to components.
Indications for use.
Adults and children 12 years and older take 5 ml 3 times a day, children from 6 to 12 years - 5 ml 2 times a day, children from 3 to 6 years - 2,5 ml 3 times a day, regardless of meals. Shake well before use. The duration of intake is 1 to 2 weeks and determined by doctor individually.
Storage conditions.
Store in original container at a dry, protected from light and inaccessible to children place at room temperature. After opening bottle, store at room temperature and consume within 2 months.
Shelf life - 24 months from date of production.
Special instructions.
Do not exceed recommended daily dose.
Name of manufacturer. SOLEPHARM LLC; Eksporta iela 12, Riga, Latvia, LV-1045. Phone: +37129484403.
Exclusive representative. BAZKID PHARM GROUP LLC; Phone: +380 (44) 337-25-38.
It is not a drug. Before use it is recommended to consult with a doctor.